Abakus strategic investment in Flash Billion, IEDM launched next-generation computing chip
Dec 20, 2019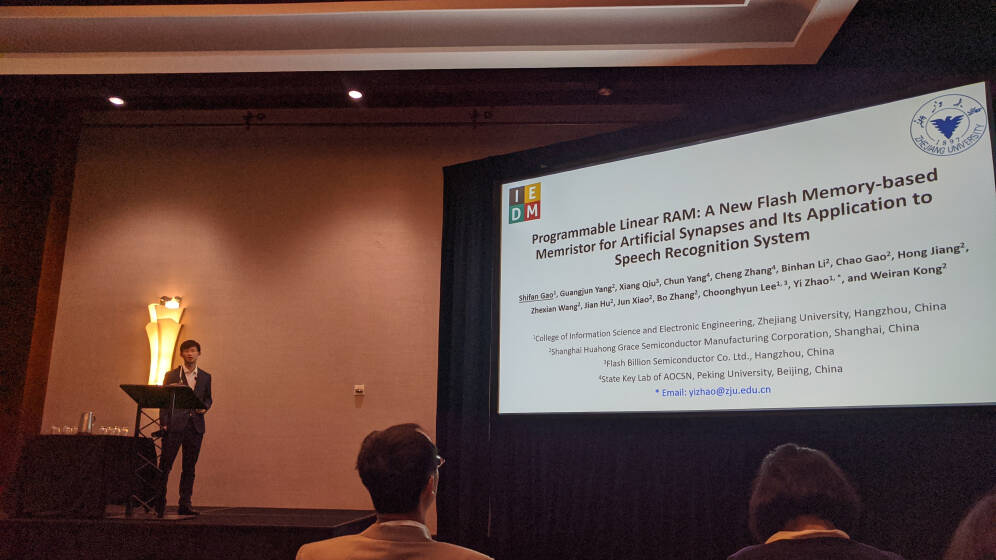 StarTribune During December 7-11th, 2019, the 65th IEDM (International Electron Devices Meeting) with the theme of "Innovative Devices for an Era of Connected intelligence" was held in San Francisco, California. Flash Billion, a semiconductor company invested by Abakus, attended the conference and presented a research report entitled "Programmable Linear RAM: A New Flash Memory-based Memristor for Artificial Synapses and Its Application to Speech Recognition System."

Flash Billion published a technical paper at IEDM
IEDM, VLSI Symposia and ISSCC are widely regarded as top-ranked international conferences, offering the state-of-art semiconductor technology and integrated circuits. Among them, IEDM is the world's preeminent forum for reporting technology breakthroughs in the areas of semiconductor and electronic device technology, design, manufacturing, physics, and modeling. It has attracted great attention from industry and technology leaders such as Intel, IBM, TSMC, and Samsung to shine the spotlight on the latest advances in semiconductor devices and related technologies.
In the evening panel discussion titled, "Rest in Peace Moore's Law, Long Live AI", a team of industry and academic experts discussed and debated the future of computing and the role of hardware. The experts agreed that the current computer system based on "von Neumann architecture" and "Moore's law" is facing considerable challenges and difficulties with the limited data transfer rate between CPU and memory, causing the degradation of computing performance.
So, Flash Billion proposed a new synaptic device, named Programmable Linear Random-Access Memory (PLRAM) based on bidirectional Fowler-Nordheim tunneling through the sidewall for the first time. In terms of device characteristics, PLRAM cell provides high precision (8-10 bit), linearity, and better energy efficiency, which can realize the calculation of deep neural network. From the cost point of view, the simplest AI embedded system on a single chip can be achieved thanks to the superior properties of PLRAM cell.
Flash Billion said that they have made breakthroughs in the three core technologies of analog computing system such as PLRAM as a synaptic device, Al algorithm, and in-memory computing architecture. In October of this year, Flash Billion launched the first AI chip "Hexagonal-A01" for applications in home appliances and IoT devices such as voice control, gesture control, face recognition and so on. Also, most of smart home appliances such as air conditioners, refrigerators, speakers, fans, etc., can be realized with low-cost artificial intelligence modules.
Founded in July 2017 by Abakus, Flash Billion is committed to the innovation of AI computing through memristor chip technology. The founding team came from leading institution of higher education, such as Peking University and Tsinghua University. The team members author about 500 papers and patents, and about 30 IEDM / VLSI / ISSCC.
The data shows that the AI chip market is expected to reach the order of 100 billion yuan in 2020. In the future, computing systems with higher efficiency and lower power consumption will become popular in various intelligent scenarios. Walking in the forefront of the smart chip field, the continuous innovation of the Flash Billion will usher in new development opportunities in the future competitive landscape.